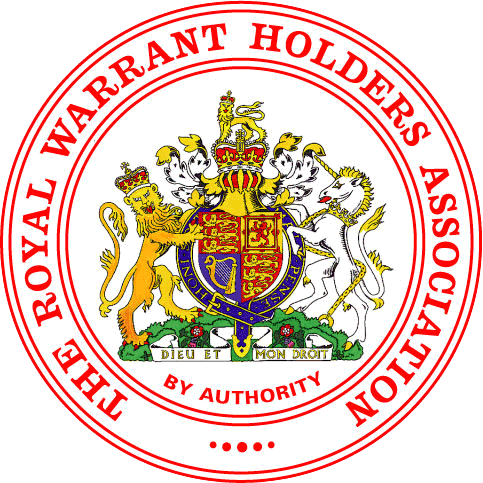 By Appointment to Her Majesty The Queen Glass Restorer
Wilkinson's was very proud to have been granted the Royal Warrant as Glass Restorers in 1986 by Her Majesty the Queen.
We are thrilled to announce that in March 2021 our Royal Warrant was renewed and is now valid until 2026 and 1st January 2021 marked 35 years of holding the Royal Warrant with David Wilkinson as the grantee throughout this period.
Royal Warrants have always been regarded as demonstrating service, quality and excellence and are highly prized. These are a mark of recognition of those who have supplied goods or services for at least five years to the Households of HM The Queen, HRH The Duke of Edinburgh or HRH The Prince of Wales. The aim of the members is to continue those virtues of quality and reliability which initially gained them their Royal Warrant of Appointment.
There are around 850 Royal Warrant Holders, including Wilkinson Ltd, representing a huge cross-section of trade and industry. They range from traditional craftspeople to global and multinational firms. Whatever their size or specialisation Warrant Holders are united by their commitment to the highest standards of service and excellence.
Royal Warrant holders may display the relevant Royal Arms with the words 'By Appointment' on their product, stationery, buildings, vehicles, advertising and packaging. There are strict rules on using and displaying the Royal Arms.
Components
Components that we supply include ceiling plates, cones, hooks, chain, bulbs, buttons and drops. If you do not see what you are looking for on our website make sure to contact us, as we may be able to source items that meet your needs.
View the components we supply
Opening Hours
Our office and workshop are open 7am - 5pm, Monday - Thursday and 7am - 3pm Friday. You are more than welcome to come visit us.
Contact us to make an enquiry
Our History
If you would like to know more about our business please visit our history page, also learn more about the Royal Warrant that we hold or read about the fascinating history of Osler and Faraday.
Find out about our history