Frank Wilkinson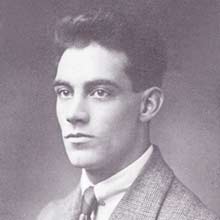 The glassware company F Wilkinson & Co was based in Stourbridge, the home of the English glass cutting industry and was owned by Frank Wilkinson, great uncle of current owner David. The company would produce decorative vases, bowls, glasses and the like using traditional cutting methods of the period.
Frank discovered a commercial method of acid polishing cut glassware, which was eventually used by glasshouses worldwide. The acid method used a mixture of hydrofloric and sulphuric acid and would take 5 minutes rather than several hours using old methods. Unfortunately when Frank caught pneumonia, his lungs were so badly damaged by the acid fumes inhaled during experimentation, he died within four days aged just 30. Franks brother Joe took on the shop and continued to trade until the end of the 1970's.
Reginald Wilkinson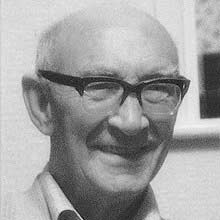 Reginald Wilkinson began working at his brother Franks shop in 1922. Inspired by his late brothers creativity, Reginald wondered if there was a better and safer way to carry out the heavy glass cutting process. Originally a mixture of sand and water was dripped onto a steel mill, however this method would make it difficult to see what had been done and would result in a lot of breakages. He purchased some used carborundum wheels for a local bevelling company and with the aid of a diamond tool, he found that he could create just about any shape of wheel he wanted. This new method was cleaner, faster and considerably safer and within 2 years the whole industry had changed to this method. Today most of the modern glass cutting businesses use diamond wheels, however we still use the carborundum method.
R Wilkinson & Son was founded in 1947 when Reginald moved to London and set up a small workshop in Battersea, where they produced cut glass tableware for the London department stores and tableware wholesalers. A chance visit by an antique dealer, requesting they re-cut some glass to remove chips and damage, heralded the company's change of direction to a glass repair and restoration business.
The company enjoyed continued growth through the 1950′s and they moved to larger premises in Balham in 1954. Reginald retired from the business in 1965, set up an antique shop in Wimbledon and wrote "The Hallmarks of Antique Glass" which today is still regarded as one of the most authoritative books on the subject.
Reginald Wilkinson died in 1986 aged 80, shortly after seeing the company he founded receive perhaps the highest accolade, a Royal Warrant by Appointment to Her Majesty Queen Elizabeth.
Arthur Wilkinson
Reginald's son Arthur joined the company when his father had moved the company to London in 1947. He was joined by his brother in law Roy Warner in 1957 and together they continued to develop their skills, recreating cutting styles all but forgotten since the 1800′s.
Arthur steered the business towards the reproduction of English chandeliers from the 18th and 19th centuries, they were able to create pieces for Town Halls and Stately Homes at a fraction of the cost of original antique chandeliers, he was also key in the restoration of many chandeliers.
The 1970′s saw another move to larger premises in Forest Hill, during this period Wilkinson's acquired the art metalworking business of Parker Bros. of Clerkenwell which allowed them to manufacture and restore more chandeliers "in house".
Arthur retired from the business in 1986 – during his time at the business he worked on some fascinating projects including those for Governors Palace, Williamsburg, USA and Dundee Town Hall.
He spent the years following his retirement travelling, enjoying time with his family and playing golf where he lived in Scotland. He passed away peacefully after a short illness on 12th July 2014.
David Wilkinson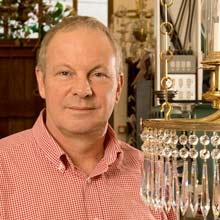 Arthur's son, David, joined the business in 1974 at the age of 16, quickly learning how to cut glass and produce chandeliers. He made great advancements and less than 10 years after joining the family company he bought ownership from his father 1983. In 1985 the company acquired the remnants of the Osler & Faraday Ltd lighting company including old drawings and patterns. The archives, along with the pieces accumulated by Reginald and Arthur, mean the company today holds one of the largest collections of Osler and Faraday antique patterns and samples in the world.
With the need for a larger space for their growing demand, the factory moved to Catford in 1988 and 2 years later a showroom was opened on Mayfair's Grafton Street and later to a premises on Dover Street. When the showrooms lease ended in 2007 the decision was made not to renew the contract, fortunately this was just before the recession. With the cost of owning property in London ever increasing, it was a logical choice to relocate the factory and offices to rural Kent in 2010. By 2014 the barn workshop was no longer large enough, so an industrial unit was purchased in the nearby town of Sittingbourne, Kent for additional storage. Then in 2020 the unit was repurposed and became our new glass house where Carl Nordbruch began blowing once the Covid crisis was over. In 2023 the adjascent unit became available and so the opportunity was taken to merge the 2 units into one large one and bring all the Wilkinson factories, offices and glass blowers under one roof.
In 1991 the company changed its name from R.Wilkinson & Son to Wilkinson PLC. Although the name may have changed, the business retained the guidelines and techniques established by the earlier generations. Because of this David is today known as one of the leading authorities in antique chandeliers and historic lighting and has had the opportunity to work on some very adventurous projects including the restoration of the crystal roof for the Reform Club, London which involved the removal of all 770 panes of lead crystal glass. Other projects have included work at Spencer House, St Georges Hall, Liverpool and the Bank of England.
Today David continues to work alongside 6 members of his family in the hope that the company will continue its personal ownership.
Components
Components that we supply include ceiling plates, cones, hooks, chain, bulbs, buttons and drops. If you do not see what you are looking for on our website make sure to contact us, as we may be able to source items that meet your needs.
View the components we supply
Opening Hours
Our office and workshop are open 7am - 5pm, Monday - Thursday and 7am - 3pm Friday. You are more than welcome to come visit us.
Contact us to make an enquiry
Read our latest newsletters
Each month we keep you up to date with the latest news from Wilkinson and the latest information from the world of glass.
View our newsletter archive