By Sam Wilkinson | 23rd December 2014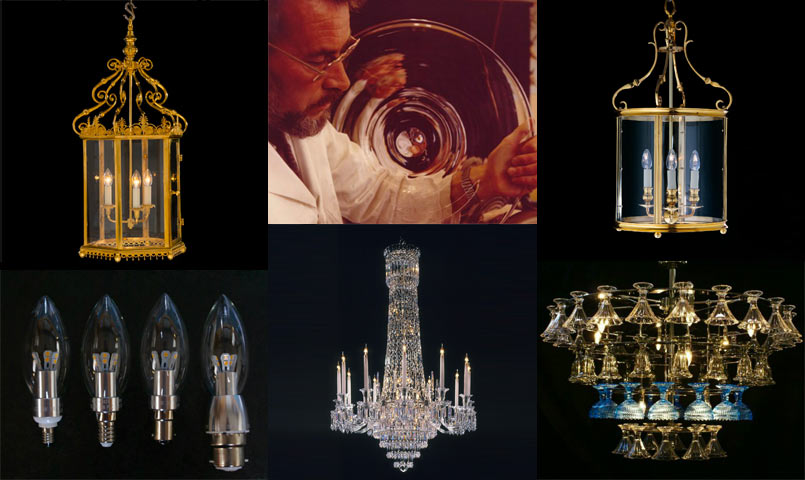 A very busy and in many ways a successful year.
One of our largest ever commissions was placed this year, to work on a project for a London based hotel for which we made over 50 chandeliers. This project is still ongoing, but following the business launch in early 2015 we hope to be able to bring you details and images of our work.
Lanterns have been a popular addition to many properties this year with orders being placed for our traditional round lanterns, Culford lantern and adapted Windsor lantern and for a Kensington property looking for something far from traditional we created a unique ice cream sundae glass chandelier. We are also delighted to be working with the World Monuments Fund again and our continued connections with National Trust properties, as we all believe in preserving our countries historical lighting for all to enjoy.
To attend to the increase in orders that we have seen this year, we have taken on 3 new members of staff. We have a fully qualified electrician as part of our restoration and installation team as well as another younger member who will continue to be taught methods in manufacturing, restoring, cleaning and installation, making him an all round skilled employee. Also joining us is an apprentice glass cutter who will spend many years working alongside our skilled glass workers to learn all of the techniques required of a master craftsman. In the 10 months that he has been with us so far we have been highly impressed with his work and the natural ability he has to work with glass.
With the increase of business we not only required more staff but also more room. So this year we purchased a storage warehouse, near our existing factory, in Sittingbourne, Kent. The unit has allowed us to free up a lot of space in our factory creating more working space and with high ceilings in the new location, it is also perfect for putting together larger pieces for cleaning, photographing and viewing.
This year we released a range of LED bulbs produced specially for Wilkinson and to our specifications, which included all of them being dimmable and extra warm white in colour temperature. With a range of cap sizes, shapes and finishes available, we feel that we can aid customers in finding replacement options as the phase out of tungsten and halogen bulbs progresses.
David Wilkinson celebrated 40 years working for the business this year and continues to work alongside 6 members of his family. This year he was also delighted to be invited to join the Worshipful Company of Glass Sellers as a Freeman and was installed as such on 11th December this year, in 2015 he will proceed to achieve the status Liveryman of the City of London.
2014 saw the sad passing of Reginald "Arthur " Wilkinson in July following a short illness. His work lives on in locations including Governors Palace, Williamsburg, USA and Dundee Town Hall. He is already greatly missed by his family but also by others in the industry who can no longer discuss with him his wealth of knowledge of glass.
However the year ended on a high with the companies Royal Warrant To Her Majesty The Queen as Glass Restorers being renewed and valid until 2020, we are honored to continue to offer our services to Her Majesty.
2015 is certain to hold a completely new range of interesting and exciting projects for Wilkinson Plc, as we also continue to work closely with our existing customers. Until then we wish you all a wonderful Christmas and a prosperous New Year.